WPML = WordPress MultiLingual plugin
General information about WPML
WPML is a plugin that provides all the functionality needed to make WordPress multilingual:
Management of multilingual versions of web pages in subfolders or subdomains
Correct identification of translated pages by hreflang-tags
Language selector
Synchronization of multilingual menus
Translation management features
We gave a lecture on the topic WordPress + WPML at the memoQfest 2018. You can find the slides here.
Do you have a WordPress website that you would like to have translated into several languages? Then PRODOC is the perfect partner for you!

We do this efficiently and ensure with International SEO that your website is also found in other countries.
Request Info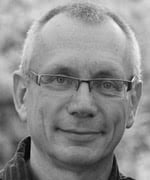 Dipl.-Ing. Stefan Weimar
Managing Director
Use of WPML
We limit ourselves here to the description of the translation management functions of WPML.
You can find general information, installation and configuration instructions on the WPML homepage .
In the following we use English screenshots, because the German localization of WPML is not yet optimal in some places.
Data exchange with CAT tools
You could also use WPML to translate individual web pages directly in WordPress. But this is only profitable if it is a small, one-time job. With the Advanced Translation Editor, WordPress offers CAT features such as glossary and translation memory. However, the functionality is not technically mature and represents an isolated solution
An external CAT tool such as memoQ, which is used by PRODOC, usually has significantly better functions that increase effectiveness.
If you need other translations in addition to homepage texts, it makes even more sense to transfer the translations to an external CAT tool. You then have access to translations of brochures, manuals, etc. and the homepage translations are also available for other media.
WPML uses the XLIFF format for data exchange with CAT tools.
Possible problems when exchanging data via XLIFF
XLIFF (XML Localization Interchange File Format) is a standardized format for the exchange of translation jobs – see Wikipedia.
However, WPML interprets this standard very unconventionally. The XLIFF files generated by WPML are not easily read by every CAT tool. memoQ has an adapted filter configuration. However, depending on the WordPress theme used, adjustments to the XML configuration of WPML may be necessary. We have extensive experience with this – please contact us!
Mr. Weimar from PRODOC has carried out an XML configuration for our WordPress theme. We were able to import the Chinese translations from PRODOC without any problems and only minor post-editing work was required.
Configuration of WPML
Basic setup
You can find the basic settings in the Settings pane.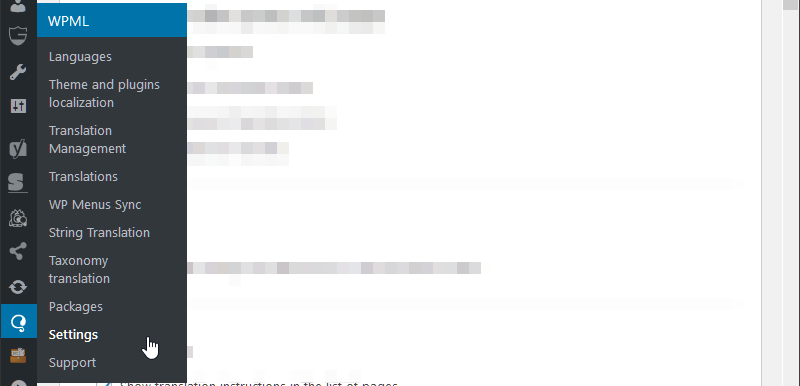 In the tab Multilingual Content Setup, 2 settings are important.
How to translate posts and pages

Under How to translate posts and pages, Create translations manually must be selected.
Translated documents options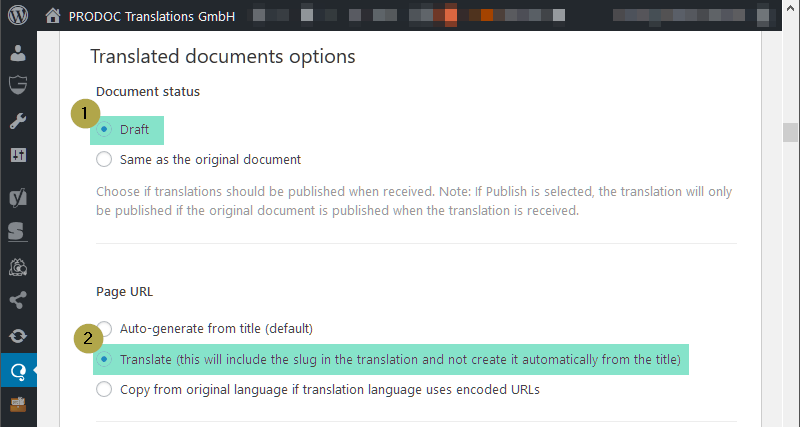 Draft prevents translated pages from being published immediately after importing XLIFF data and thus becoming generally visible. Foreign-language pages generated from imported data should be checked in any case, even if hardly any adjustments are usually necessary.
Translate causes the URL to also be forwarded for translation. This is usually desirable for SEO.
Plugin for translation management
WPML consists of several components. The WPML Translation Management plugin must be installed in order to use the translation management features of WPML.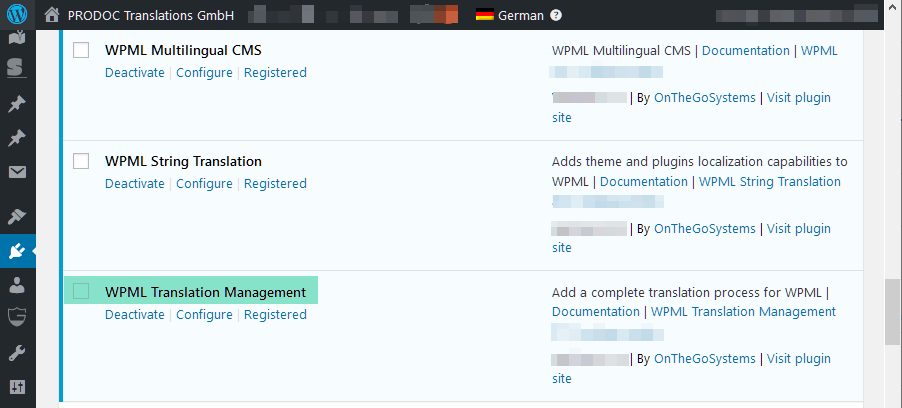 Configuring translation managers and translators
After installing the WPML Translation Management plugin, the Translation Management submenu is available in WPML.
Select Translation Management from the WordPress menu under WPML: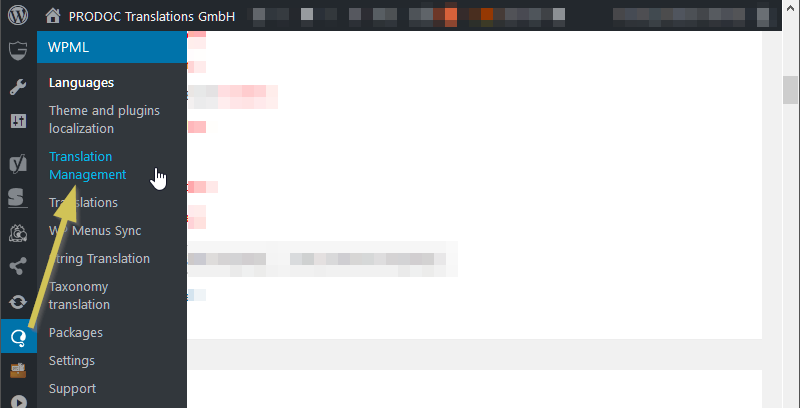 Appointing translation managers
If translation managers and translators have not yet been configured, the following screen appears: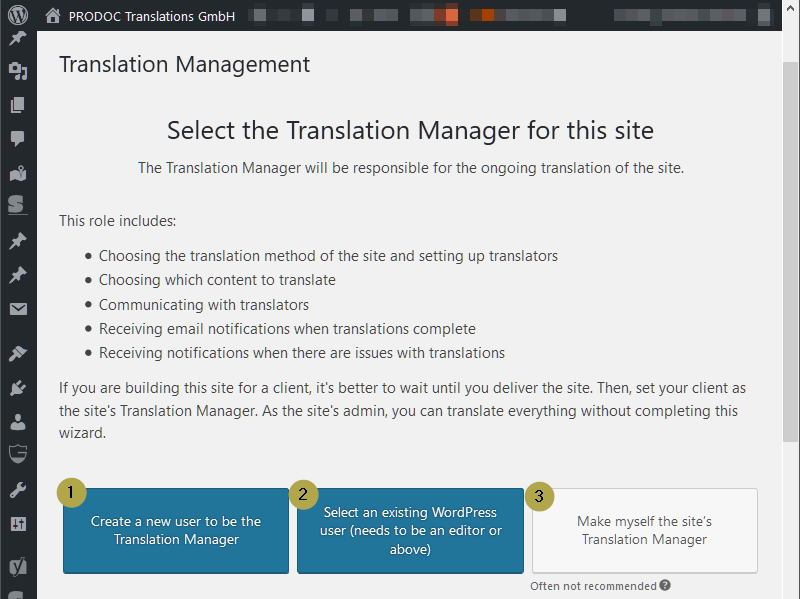 With one of the three buttons at the bottom of the screen you can:
Create a new WordPress user that acts as the translation manager
Select an existing WordPress user as translation manager
Make yourself a translation manager
Translation managers are users who create and manage translation jobs in WordPress. They have a broad set of rights. If you appoint a PRODOC employee as translation manager, we can relieve you of a large part of the administrative work for your homepage translations.
Appointing translators
After setting up a translation manager, the translators are still missing: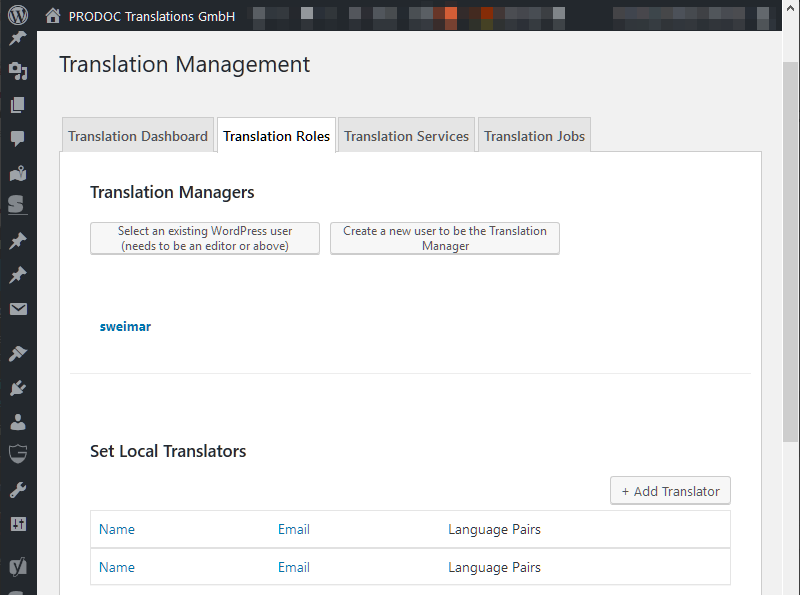 Click on Add Translator; the Add new Translator window appears:

The translator is a user in WordPress who can either translate directly in WordPress itself or generate XLIFF documents for external translation and import translated XLIFF documents.
Choose yourself or another WordPress user from your company if you do not want to grant PRODOC access to your WordPress environment. You will then have full control, but also more administrative work.
Create a PRODOC employee as a new user and assign him or her the translator role if you want to minimize the effort involved in distributing translation documents.
IMPORTANT! In both cases, assign all language pairs to the translator in the next step. Neither you nor a PRODOC employee will be able to speak all languages, but it is important that one employee can manage the translation documents for all languages. The distribution to individual translators will then be done in our CAT tool.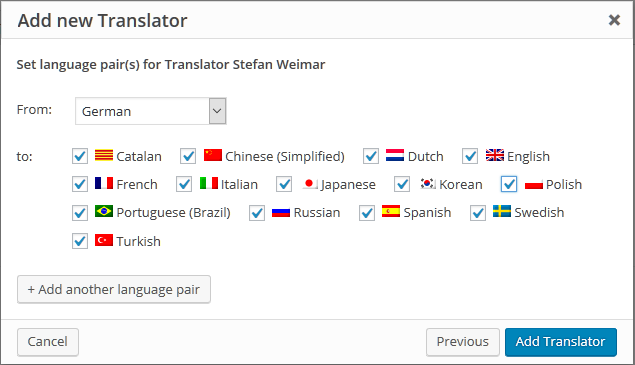 The WPML translation management setup is now complete and you can generate translation documents.
Prepare translation of individual pages with WPML
Under Translation Management you will find the Translation Dashboard: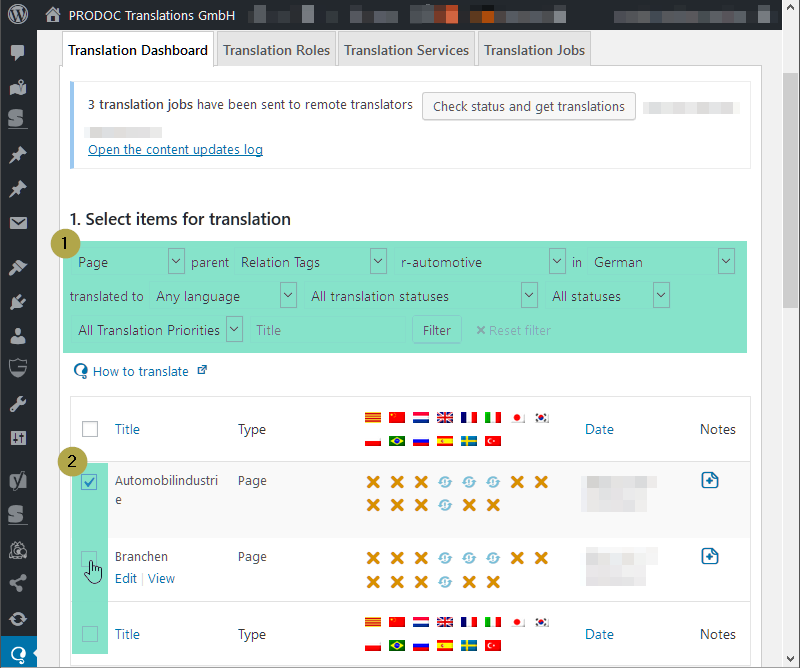 Search for the desired files on the homepage using a filter
Select the files to be translated
Further down in the window under Select translation options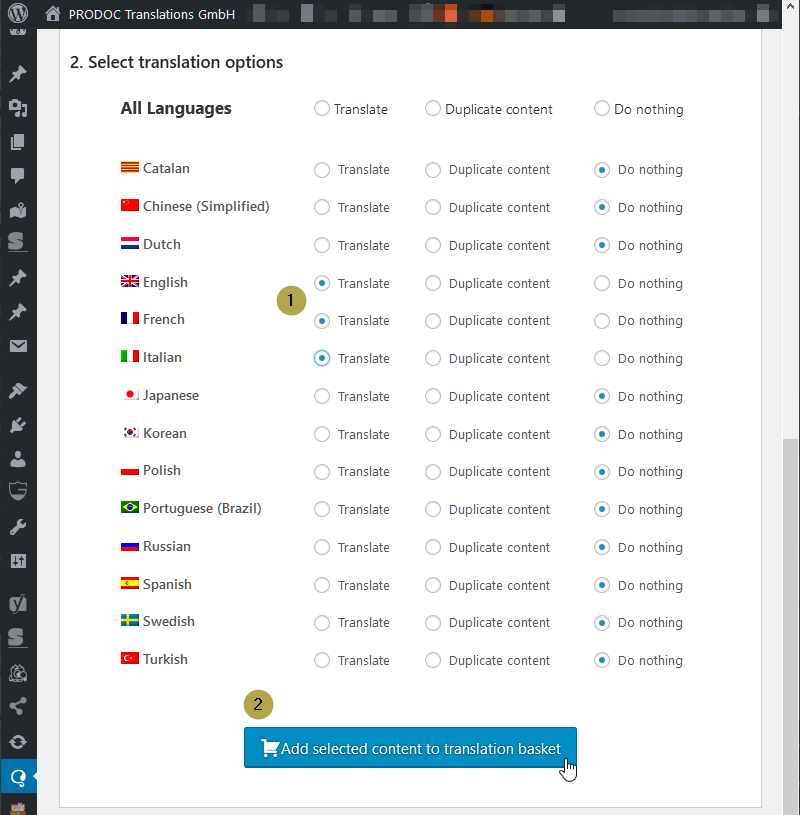 Select the languages into which the previously selected files are to be translated
Click on Add selected content to translation basket
The new tab Translation Basket appears at the top of the window

Go to the Translation Basket and scroll down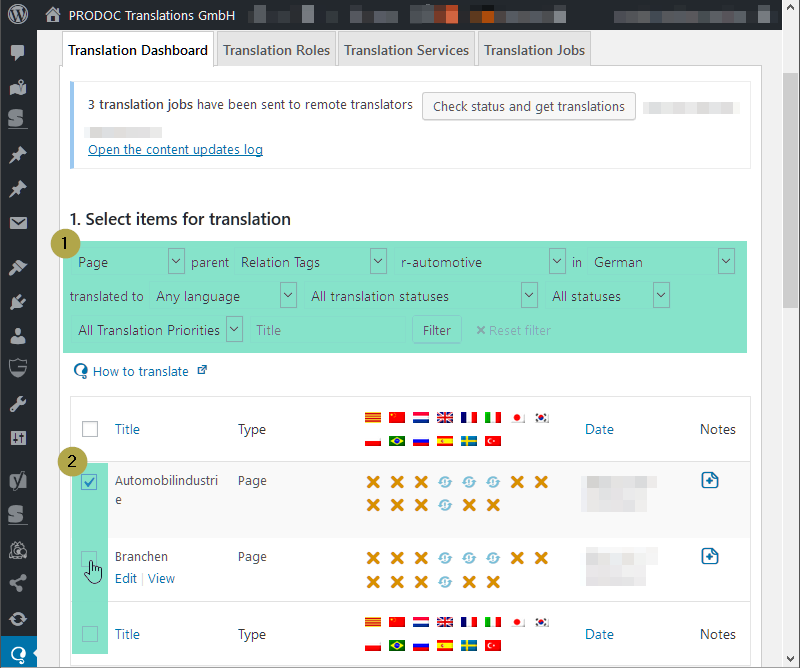 Enter desired deadline
Select translator
Click on Send all items for translation
This creates the translation jobs. Translation jobs are managed in the Translations submenu.
Editing translation jobs
You only need to perform the following steps if you have chosen yourself or an employee as your translator. If the translator is a PRODOC employee, we will take care of these steps for you.
Selecting newly created translation jobs
Go to the Translations submenu to edit the translation jobs you have just created: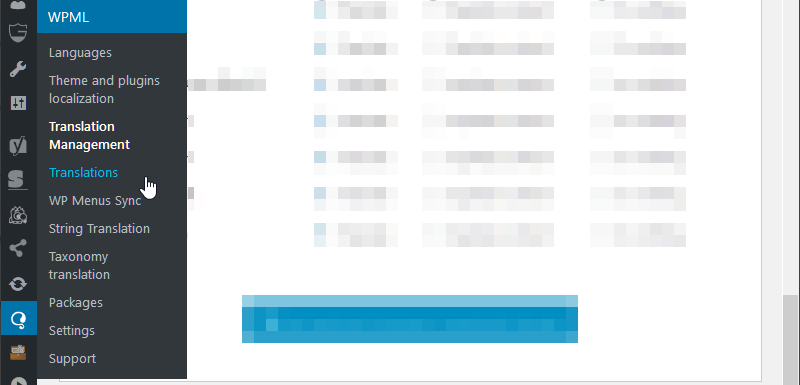 In the Translations submenu, you can see all translation jobs that have ever been created with WPML.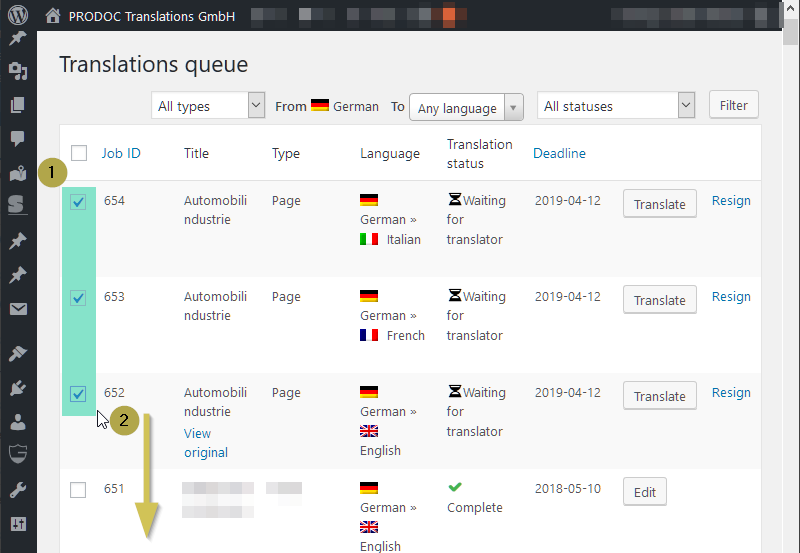 Select the previously created translation jobs
Scroll all the way down
Creating XLIFF files

Clicking on Apply creates a ZIP file that contains an XLIFF file for each previously marked translation job.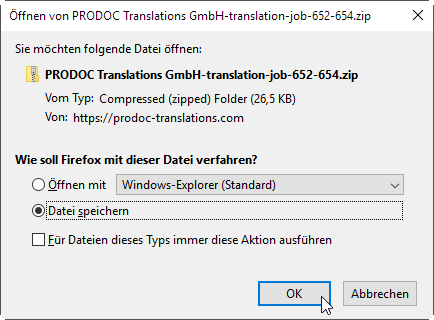 You can save this ZIP file on your local computer and send it to us for translation via email or sharefile.
Importing translated XLIFF files
If you receive translated XLIFF files from PRODOC, you have to import them into WordPress.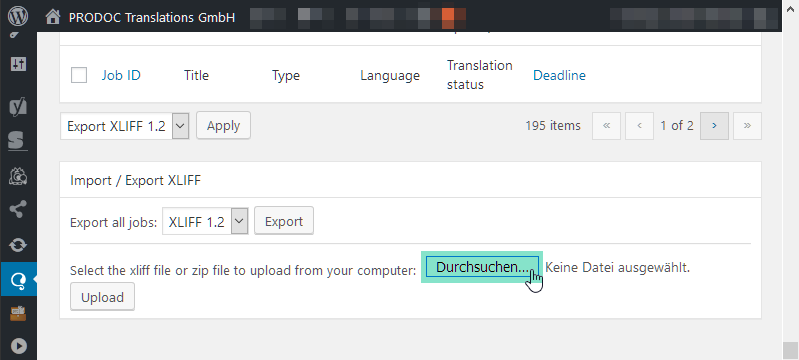 You can then select individual XLIFF files, or alternatively a ZIP file with multiple translated XLIFF files.
After selecting the files to import, click Upload
WPML now imports the XLIFF files and creates foreign language pages in WordPress that are synchronized with the German original page.
Tasks after importing translations
Now the translated pages are in your WordPress system. There's still a few things to be done:
Check translated pages:

Has everything been translated? If applicable, provide feedback to PRODOC – a customary XML configuration may be necessary or an additional string translation may be required.
Are you happy with the formatting and layout?
If SEO optimization was applied during translation: are slug, title and meta description translated and do they contain the desired keywords?

Synchronize menus:

For this there is an extra function in the WPML menu: WP-Menu Sync
The keywords defined after SEO optimization should also be used here

Publish translated pages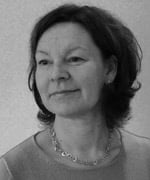 Dipl.-Kffr. Sanne Jerxsen
Administrative director