Overview of memoQWeb
Structure
memoQWeb consists of three modules that enable online collaboration between customers and translators:
memoQWebTrans – the online translation interface
QTerm – the online terminology server
Discussions – to clarify terminology and translation issues
For memoQWebTrans and QTerm there are separate pages on our homepage. The discussions are described below on this page.
Purpose
memoQWeb offers:
An overview of all open translation jobs per user
The possibility to do translations or review jobs online
Online access to terminology
A portal for clarifying questions
Want a demo?
We will be happy to demonstrate how you can use memoQweb in a webmeeting.
To the contact form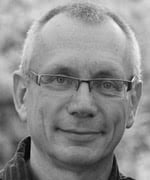 Dipl.-Ing. Stefan Weimar
Managing Director
Operating instructions for memoQWeb
In the following you will find operating instructions for memoQWeb.
With the help of the table of contents on the right you can quickly jump to the topics that interest you
User profiles on the PRODOC memoQ server
You can view, change or supplement your user information in memoQWeb at any time
PRODOC creates your user account
When we create a user account for you on our memoQ webserver, you receive an email. The email contains:
A link to the login-page
Your user name
Your password
For security reasons, please set your own password on our PRODOC memoQ webserver. Proceed as follows:
Log on to the memoQ server
Click on Profile

The following page will show your profile data.
We only set the user name for new user accounts.
You have to add/edit personal information yourself – please follow the instructions below.
You can edit your profile information in memoQweb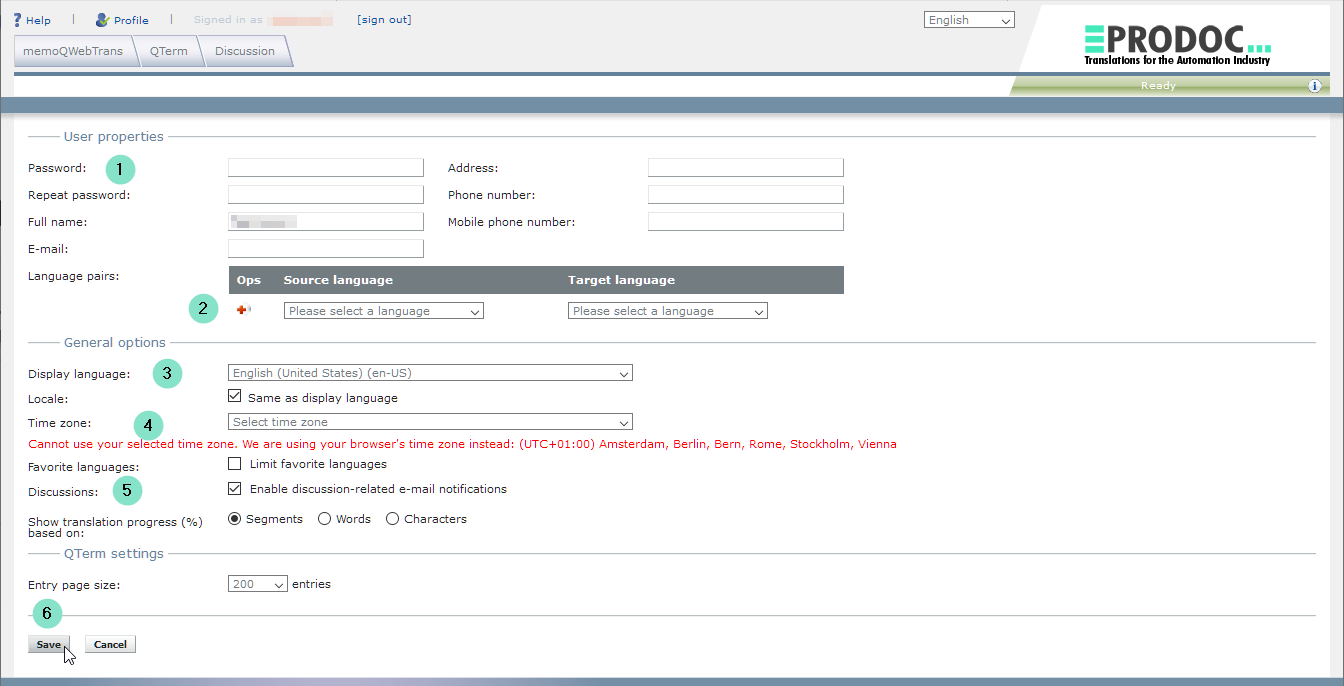 Set your password
Use a mix of numbers and letters, minimum 12 characters.
Do not use the same password anywhere else for security reasons.
We recommend the use of a password manager such as 1password for the management and easy use of a number of different passwords.
Enter your language pairs (optional)
Set display language (for memoQweb, optional)
Set your time zone (optional)
(De)activate discussion-related email notifications
If this box is checked, email notifications will be sent whenever a discussion created, monitored or addressed by your user changes.
Make sure that this box is checked, as discussions will provide relevant information on projects and term bases!
More information on discussions can be found further down this page
Save changes
Now you have set up your account and you are ready to go!
Using the discussion panel
You will find an overview of all discussion topics in the discussion panel: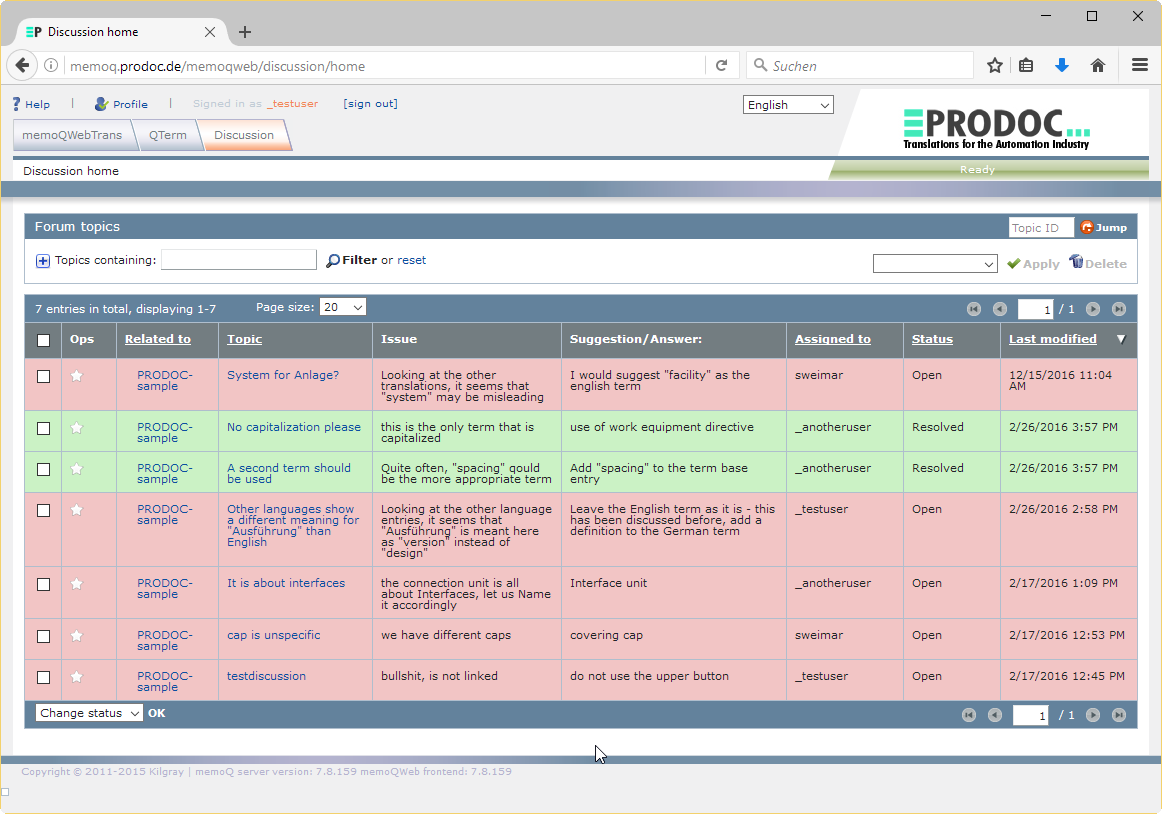 In order to see a discussion topic, the topic must be assigned to a project or term base where you have access rights.
Filter options for discussion topics
The Discussion tab in memoQWeb shows a complete list of all Discussion Topics you have access to:
Click on the + icon in Forum topics to open a panel with filter options

You can filter the discussion topic list acc. to your requirements and even save different filter configurations
Receive notifications for specific discussion topics
If you want to be alerted by email on any change of a discussion topic not assigned to you:
From now on you will receive email notifications on every status change of the discussion topic until you end monitoring
Status of discussion topics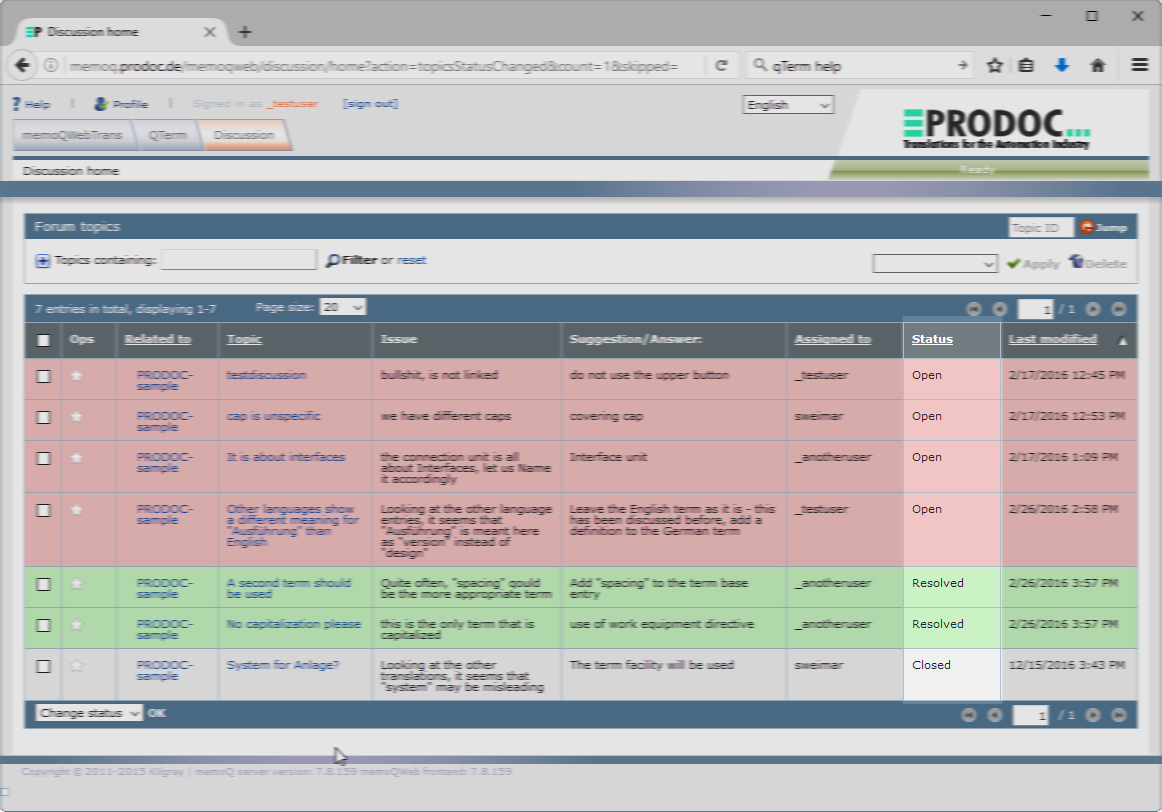 | | |
| --- | --- |
| Status | Meaning |
| Open | No solution has been found so far |
| Resolved | A solution has been found |
| Closed | A closed discussion has been resolved and no longer shows up related to a term base – this status should never be used! |
NEVER set the status of a discussion to Closed – you will loose all term-related history!
If all participants have agreed on an answer, the discussion topic status is set to Resolved by the PRODOC contact person.