CAT tools – Efficient and consistent translation for all business areas
In order to achieve global success in the sale of technical products, it is extremely important to address customers in a targeted and consistent manner – in addition to the brand itself.
Language service providers who support their customers in their global presence must meet two key requirements: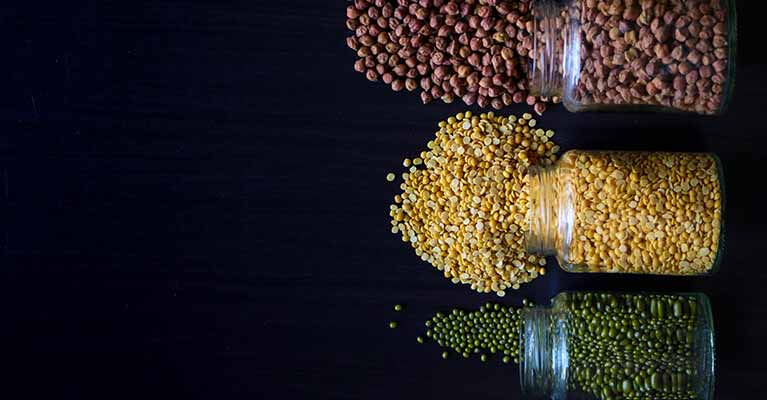 Consistency
A uniform term must be used in all languages for the same product/concept/service. For example in German "Betriebsanleitung" but not from time to time "Bedienungsanleitung" or "Anwenderhandbuch". For the English translation only one term is allowed: e.g. "user manual" and other possible translations like "instructions for use" or "user's guide" should be avoided, if possible.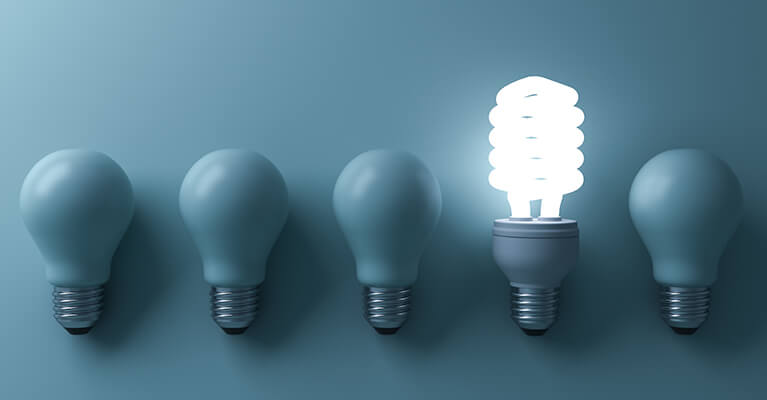 Efficiency
Technical information is characterized by reuse of the same texts. Examples are the continuous product development and thus versioning of technical documents or many similar documents for similar products. It must be possible to efficiently reuse translations once they have been made
PRODOC translates a wide variety of document types for us: XML data for manuals, brochures in InDesign and texts for our homepage. Through the use of memoQ as a CAT tool, PRODOC ensures that the translations are very consistent overall.
Technical documentation employee at Faulhaber
Request a translation quote now!
Total costs – with and without a CAT tool
Using a typical manual as an example, we compare the total cost of producing a foreign-language manual over several versions.
Even if the price per word is higher, the total cost is lower when using a CAT tool, if not only one single document is translated.
Translation extract for subsequent translations
For subsequent translations (new version of the same document, similar document for similar product) a translation extract must take place.
The translation extract consists of:
Determination of unchanged and changed text
Transfer of texts to be translated to the translator
Incorporation of the translated texts into the target-language document.
The cost of this translation extract is not negligible, whether it is done internally by you or by the translation service provider. Without the use of CAT tools, the costs increase with the amount of text, while at PRODOC we can offer document analysis and translation extract at a flat rate thanks to our CAT tool.
Even if you compare PRODOC with the cheapest provider without CAT tool, you will get the following cost structure:
| Task | "Cheap" translation agency | PRODOC with CAT tool |
| --- | --- | --- |
| Translation extract | 0.02 € per word | 30 € flat rate |
| Translation of changed text | 0.10 € per word | 0.08 € per word |
| Translation of new text | 0.10 € per word | 0.15 € per word |
With these prices we showcase the cost development for the translation of several versions of the same manual.

| Version 1 | Version 1.1 | Version 1.2 | Version 2 |
| --- | --- | --- | --- |
| The manual is created and contains 10,000 words | The manual is revised, existing sentences are changed and amended (800 words), new sentences are added | New minor manual revision, 300 words of new text, 900 words of changed text | Major update of the manual with new product features, 2,000 words of new text, 2,000 words of changed text |
| PRODOC: 1,500€ | PRODOC: 214€ | PRODOC: 147€ | PRODOC: 490€ |
| Without CAT tool: 1,000 € | Without CAT tool: 380 € | Without CAT tool: 350 € | Without CAT tool: 680 € |
Conclusion: The higher prices for the subsequent translations without CAT tool are due to the fact that that provider (or you, the customer) has to carry out some pre and rework:
Identify changed and new texts in the German source document
Extract texts for translation
Update foreign language manual with new/changed translations
Here you can see very well that the use of CAT tools with translation memory pays off after only a few document versions.

Even though this example was based on a 50% higher word price for translation. If prices are only 20% apart, break even can already be achieved with version 1.1.
Request a translation quote now!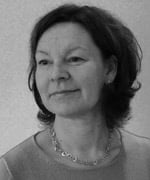 Dipl.-Kffr. Sanne Jerxsen
Administrative director
In the above example, only the versioning of a single manual was considered in order to demonstrate the savings potential through the use of CAT tools with translation memory. Usually, however, a manufacturer has many similar documents that need to be translated. Calculation examples for this can be found under User manuals and data sheets.
For more information on consistent translation, see Terminology management.
What are CAT tools?
Similar to development environments for programmers, CAT tools provide a customized environment for translators that helps them to meet the need for efficiency and consistency.
The essential components are:
Terminology database
Terminology support in the CAT Tool for ensuring that key terms are always translated the same.
Translation memory
Texts that are translated once are stored in a Translation Memory.
Document filter
Import of any document format and extraction of the text to be translated. Automatic insertion of translated texts from the translation memory into the target document.
The CAT tool offers the following functions to facilitate work for translators:
Import of texts in different formats – translation in a customized interface – export of the translation in the same file format as the source text.
Translators always use the same software – the CAT tool – regardless of the customer's file format.
Supported file types
Many different file formats from the customer – one standardized tool for the translator!
We can therefore process the many different file formats from our customers directly, without the translator having to know them.
The task of a translator is to translate and not to deal with large numbers of different file formats.
CAT tools can read a variety of different file formats and isolate the text to be translated, therefore protecting the remaining file constituents from being modified.
PRODOC uses the CAT tool memoQ from Kilgray.
You can find a list of file types that we can process on the technical translation page.
No machine translation
CAT means "Computer Aided Translation":
The CAT tool provides the translators with a collection of translation specific tools with which they can deal with their work quickly, efficiently and consistently.
Pure machine translation does not take place.
However, it is possible to integrate machine translation technology for certain purposes.
memoQ server – the CAT tool of choice at PRODOC
Unique functionality of memoQ
memoQ is a server-based CAT tool that goes far beyond the mere translation in its functionality. It is the central platform for us as a translation company that optimizes collaboration between PRODOC, translators and clients.
Its strengths are as follows:
Browser-based portal
web portal for: terminology management, project management, translations in the web browser
Collaboration
multiple translators can work on the same document at the same time – for tight deadlines
Flexibility
freely programmable XML import filters for the many different XML file types that are used in the industry
Special features of memoQ
Functionality for international teamwork
QTerm as a component of the memoQ server provides our customers' foreign representatives with constant access to current and approved terminology.
Selected employees of a company can get access to corporate terminology using a Web browser.
Often, the foreign representatives will be responsible for final correction and approval of technical translations. For this purpose there is memoQWebTrans, the browser-based access to our translation server. Alternatively, a proofreading workflow using RTF files can be performed.
Software localization functions
In the Industrial Automation, Power Engineering and Automotive sectors, there are many different product- and customer-specific software programs.
Localizing this software is often hardly possible without special tools. Special functions in memoQ allow smooth software localization.
The XML import filter is flexibly configurable. Its cascading filter function allows e.g. to reliably filter HTML code embedded in XML data and hence to translate only the text content.
The memoQ import filter enables custom configurations for industry-specific XML file types. See Industry 4.0 for examples with IODD files and GSDML files.
The pseudo-translation function provides an elegant and efficient way for testing the functionality of a custom filter configuration.
The memoQ user interface
Areas of the user interface
In the screenshot, you can easily recognize the individual areas of memoQ's user interface.
Source text
Target text
Segment quick info: translation status, comment present, QA error
Lots of reference info at a glance: fuzzy matches (red), concordance hits (yellow) terminology entries (blue), detailed information on the selected entry in the lower part of the screen
Preview area for Office files, information about QA errors, comments on the current segment
Here it is very advantageous that all reference information required for the translation of a segment is summarized in area 4. This facilitates consistent translation.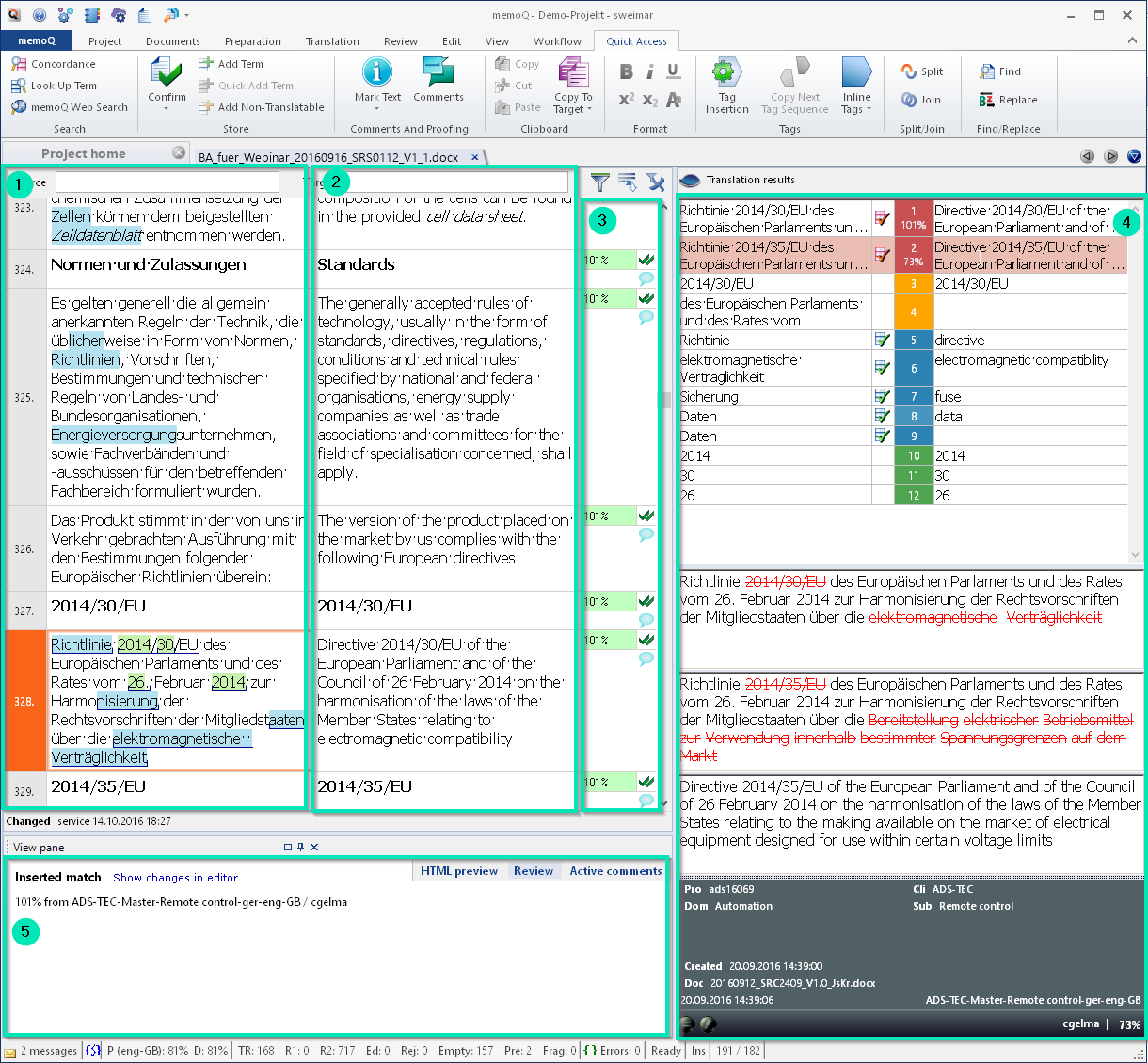 Would you also like to save on translation costs?
We will be happy to advise you on the most cost-effective approach and the integration of our IT into your translation processes.
Request Info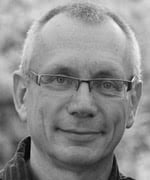 Dipl.-Ing. Stefan Weimar
Managing Director