Use of ShareFile for data exchange
PRODOC provides technical translations in many different languages. We often translate confidential documents. We therefore need to be able to transfer translation project data securely.
For this purpose we have implemented a ShareFile Server in our Citrix environment. Via this ShareFile Server, PRODOC can exchange documents with clients and freelancers in encrypted form.
This provides a platform for the exchange of confidential data. Even large amounts of data, which are typically required for translations of  brochures  or  catalogs , can be transferred securely.
Private Cloud Server with German data protection
A major advantage compared to a data exchange solution via Dropbox or WeTransfer is secure data storage within the PRODOC Private Cloud.
Data goes directly from the customer to PRODOC via an encrypted connection, and is therefore subject to the German Data Protection Act.
Features of Citrix ShareFile
With Citrix ShareFile, you can either work without logging in or as a logged-in user.
In both cases, we use the integrated mail system: we can send links for uploads and downloads and be notified by email when the data exchange has taken place.
Working without logging in
In this case the data exchange takes place via a web application.
Data request: PRODOC sends the user a link. The user can upload one or morel files via the link.
Data provision: the other way round to the request, the user can download data from the PRODOC server via the link.
Working with login
The user is registered in the Private Cloud and receives his own login data.
He can use this login data to access his own directory on the PRODOC Cloud server, either via the web interface or by using the ShareFile desktop app.
Data also remains stored in this directory for a long period and the customer has permanent access.
Registering a user in the ShareFile Private Cloud
To make data exchange possible, PRODOC creates an account for you on our Citrix ShareFile server.
Email with link for registration
After a user account has been created by us in ShareFile you will receive a registration mail: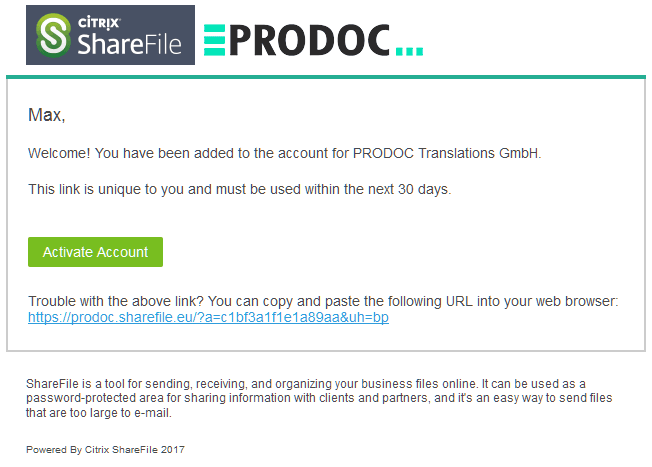 Click on the Activate account button or copy the link into your web browser.
Registration step 1
The following web page opens:
Check and correct if necessary.
Your first name
Your surname
Your company
Then click on Continue
Registration step 2
In the next window: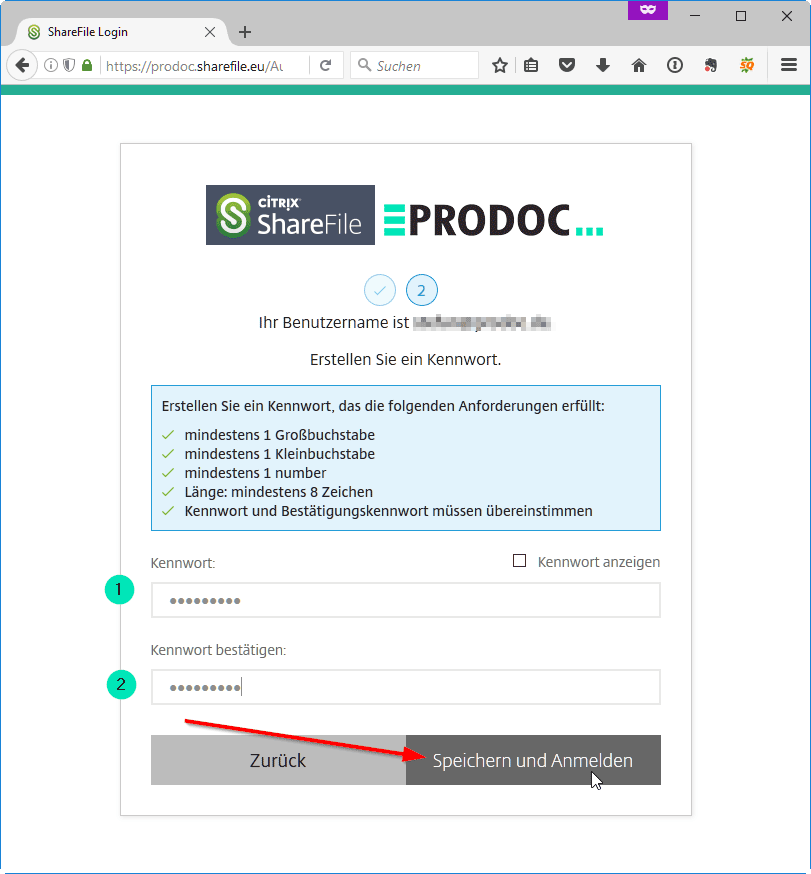 Enter password
Confirm password
Click on Save and Login
You are then in your ShareFile directory and can manage files here.
Data exchange via the web interface
After logging in on the PRODOC.sharefile.eu page with your user name and password, you are taken to the user interface of the PRODOC private cloud.
Upload data
Select the desired folder in the shared folders: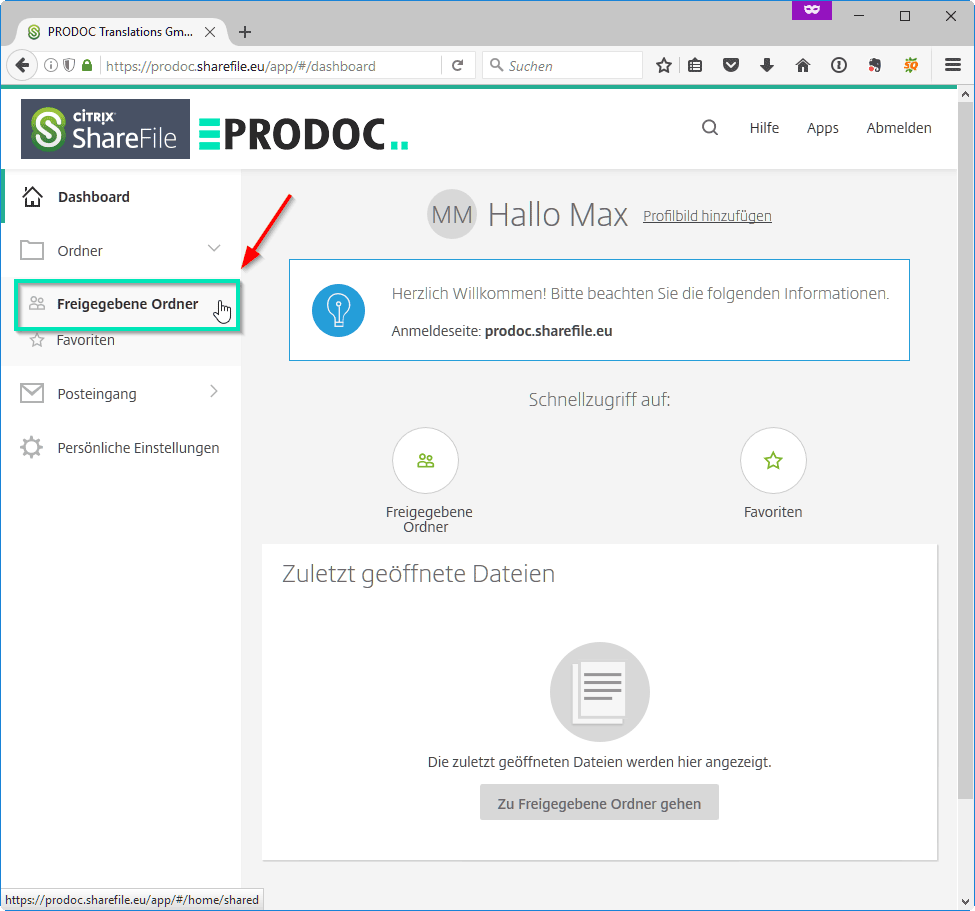 Create a new folder either via the + icon (1) or upload files directly from the browser via drag&drop: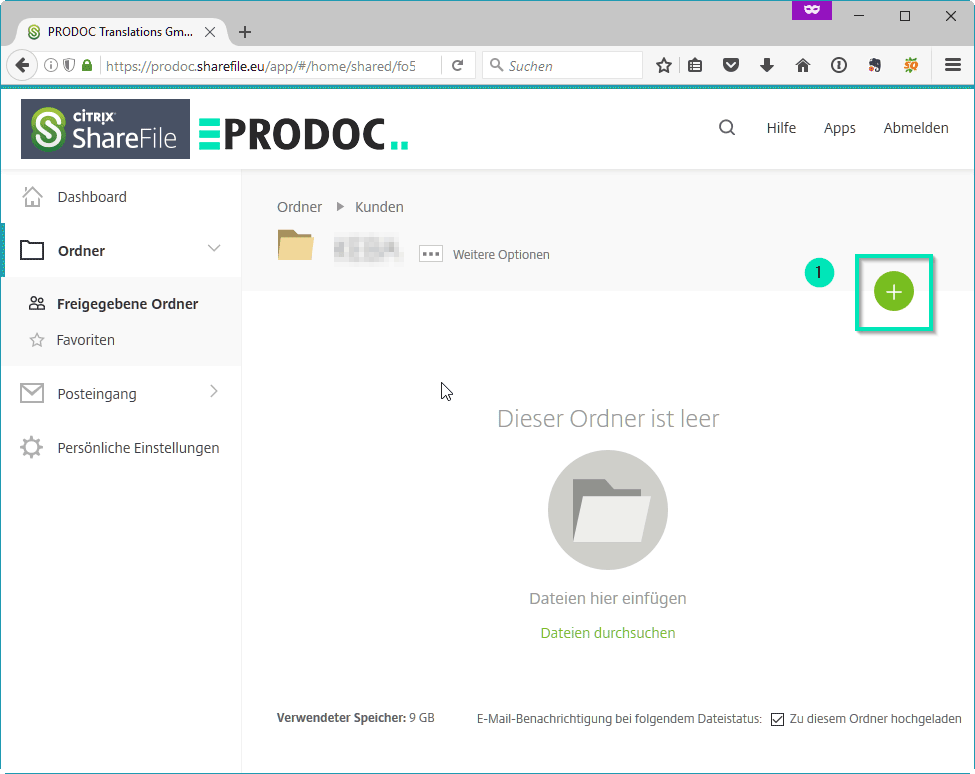 Download data
Go into the desired folder and activate the checkbox of the files.
The download button appears: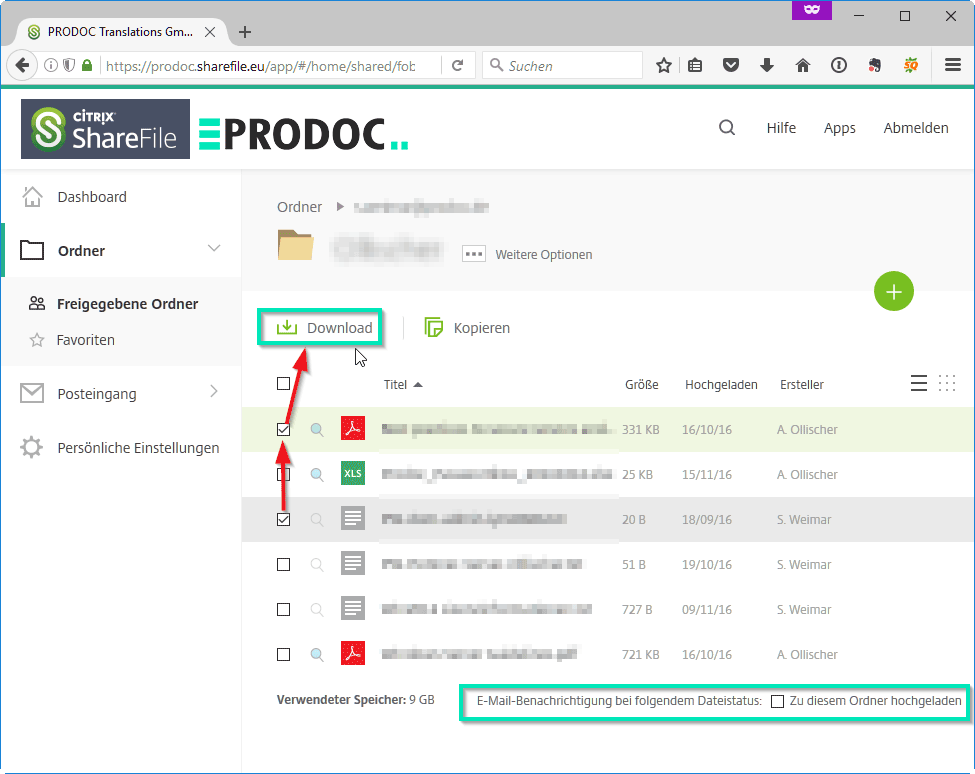 Click on download to download the selected files.
You can optionally specify whether you would like to be informed by email when files are uploaded to this folder.
Learn more about Citrix ShareFile
You can find more information on functions using Help: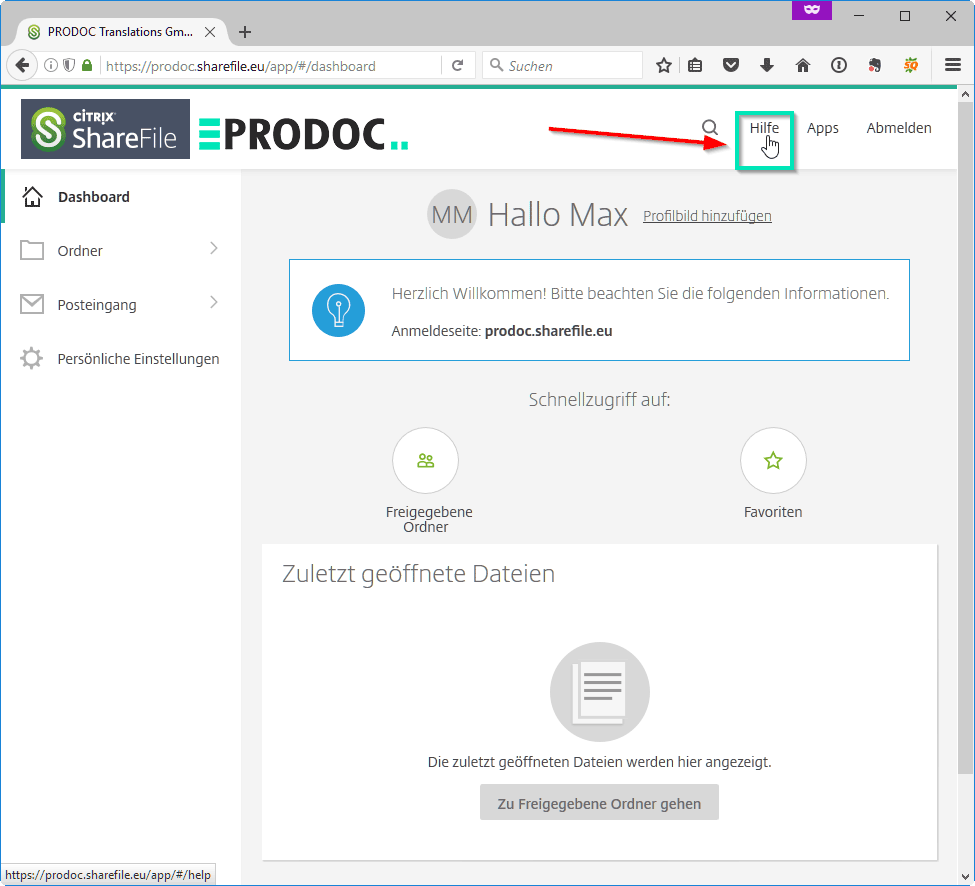 By clicking on Apps, you can also download the ShareFile desktop app which you can install locally.
This gives you direct access to ShareFile data without needing to use the browser.
The following video shows how to use the Sharefile Desktop App:
Features of Citrix ShareFile
Some of our customers use tools such as WeTransfer or Dropbox for file transfer and are often unaware that their data ends up on non-European servers where the confidentiality of their data is often not guaranteed.
Request Info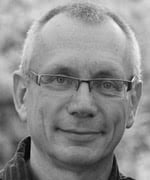 Dipl.-Ing. Stefan Weimar
Managing Director